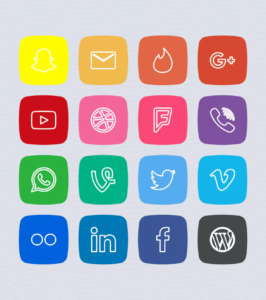 Losing a loved one is hard enough, but in the digital age, there are a number of considerations that you need to make in dealing with their social media accounts. Do you have trouble remembering your passwords? Have you ever had to help someone get back into their account? The process can be very frustrating and sometimes futile.
With a little preparation, you can help avoid the hassles of not being able to access and dismantle your loved one's social media accounts. First off, as part of your will or estate planning, if you are an active social media user, you need to make sure your loved ones know how or where to access your login information. Keeping your accounts and passwords in a book or a spreadsheet is a good start.
This is not meant to be a comprehensive list, so please review the individual account policies for the social media sites you are a member of. The most common ones are Facebook, Twitter, Google +, Pinterest, Instagram, Linked In and Snapchat, but there are dozens if not hundreds more that someone might register with. The most important thing that you can do for the ones you leave behind is to provide them with what accounts you like to use and access to your login and password in case something happens to you. Social media habits change and so do your passwords so make sure and keep your records updated.
Now, if you are reading this because your loved one has passed and you are trying to sort out their affairs, here is a brief overview of the guidelines from the major social media sites:
Facebook – If you have their username and password, you shouldn't have much trouble. Login, go to this page https://www.facebook.com/help/delete_account and proceed with deletion of the account. Visit here if you have further questions: https://www.facebook.com/help/224562897555674 If you can't find the information you need, go to this page to start the process https://www.facebook.com/help/contact/228813257197480
Twitter – Again, if you have the login, go to this page and follow the instructions https://support.twitter.com/articles/15358# If you need to engage the process without credentials, you are going to need a lot more information.
Google+ – If you don't have login information, start the process with Google here: https://support.google.com/accounts/troubleshooter/6357590?hl=en
Pinterest – With credentials login and delete the account. Without, you are going to have to go through a written process as follows:

If you'd like us to deactivate a deceased person's account, please email 

care@pinterest.com

 with:

Your relationship to the person with documentation to verify it, like:

Documentation of their passing (ex: death certificate, obituary, news article)

A link to their Pinterest account (ex: pinterest.com/USERNAME). If you don't know this, try searching for it on 

https://pinterest.com/all/

The full name and email address on this person's account

Birth or marriage certificate

Public mention of relation

Notarized proof of relation

If your name is included in the obituary, that's sufficient

 

Instagram – They memorialize the account. Go here for details: https://help.instagram.com/264154560391256/
LinkedIn – https://www.linkedin.com/help/linkedin/answer/2842/deceased-linkedin-member-removing-profile?lang=enWe'll need you to gather:

The member's name
The URL to their LinkedIn profile
Your relationship to them
Member's email address
Date they passed away
Link to obituary
Company they most recently worked at

To start this process, please answer some questions about the person who has passed away by filling out this form.
To learn more about what to do with the loss of a loved one – Schedule a free initial consultation